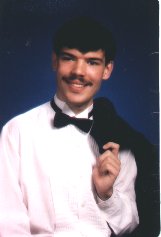 Timon2
---
So, you wanna know some facts about me eh? Well, as you can tell by the background, I am a Taz fan. He's my favorite character of all time. As you can also see, I am a fan of TLK and Timon is one of my favorite character.
I can usually be found on IRC. I'm not on much now because of school, but I'll be out in two weeks and plan to stay on IRC as much as possible.
I am currently attending Abraham Baldwin Colledge in a small town in south Georgia. I am majoring in computer science with hopes of eventually writing my own games. Computers are my life. I can't imagine what it would be like without my computer or internet connection.
Like everyone else, I enjoy spending time with friends. That's why I love getting on IRC.
If you can't catch me on IRC and want to talk, feel free to e-mail me. See you on IRC!
/me waves bye
Last modified: Sun Jul 4 01:38:24 2010
Generated from html on Wed Dec 7 18:12:49 2022