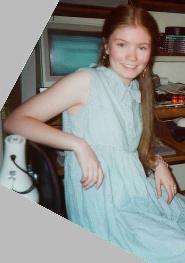 Nala
---
Hmm ok where should I begin ...

Well ... My name is Jennifer Teresa Frances Brook. (But don't you DARE call me by my real name on IRC!! :) ) I may live in Colorado, but I am Canadian by birth, and lived there for 12 years of my life. (Don't ask how we ended up in Colorado ... I am NOT going into that story ... Its a LONG story that I avoid telling whenever I can.)

On IRC I am (about)a 5 years old lioness who lives in the Pride Lands, and am the queen.

Apart from my adiction to IRC, I like to read, draw, paint, sew, embroider, cross-stitch, cook, sleep, eat, watch TV, do puzzles, watch movies (I don't get out to movies very often), play nintendo (the OLD nintendo), play PC games, do crafts ... Heh ... I do everything! Except sports. Thats where I draw the line.

My favorite:

movie is The Lion King. (Like you can't tell!!!! :))
animated TV show is Timon & Pumbaa.
non-animated show is the Star Trek shows. (Voyager, The Next Generation, and Deep Space 9. I can't STAND the old shows though.)
non-animated movie (s) is the Star Wars Trilogy and the Star Trek movies 2 through to the newest. (The first is BOREING.)
I also really injoy ElfQuest graphic Novels.
One day I hope to become a Disney Animator like Belle. Hehe like she says ... Maybe we'll work at desks next to each other! Though thats pretty doubtful. :) The same building ... that may come to be! :)

Well I guess thats it ... If not ... check out my web page.
Hakuna Matata!
Busa Simba!
TLKiaWOL!!!!!!
And ...
Remember who you are.
- Nala
Last modified: Sun Jul 4 01:38:23 2010
Generated from html on Thu Dec 7 04:16:50 2023